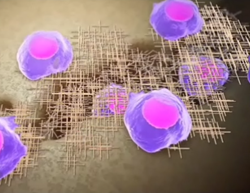 Toms River, NJ (PRWEB)
July 08, 2015
An estimated 110 million people suffer with poor bone and joint health. Millions more are just years away. And many menopausal women face an increased risk for myocardial infarction due to calcium taken for bone health.
To help those suffering from these chronic conditions, ZyCal Bioceuticals today announced the launch of Ostinol™ Bone and Cartilage Stimulating Proteins – the first clinically proven supplement to grow both new bone and cartilage tissue, now available directly to consumers.
James Scaffidi, President and CEO, ZyCal Bioceuticals, said, "For years, people have been told to take their calcium and minerals as a preventative measure for good bone and joint health. However, for bones, the National Osteoporosis Foundation reports that it is the loss of minerals and bone tissue that leads to poor bone health. Independent studies show that calcium alone cannot regrow bone tissue.
"With 40 years of research behind it, the bio-active protein complex in Ostinol™ is the only all-natural supplement clinically proven to GROW new bone tissue, new cartilage tissue and fight inflammation. This powerful bio-active protein, used by orthopedic surgeons to help in safely grow bone tissue post-operative, is now available for consumer purchase for the first time."
Proven Science At Work
As some people age, they lose the ability to produce enough of the vital, bio-active proteins found in Ostinol™, resulting in poor bone and joint health. These natural, key bio-active proteins are required, on a daily basis, to activate and transform key cells in our bones and joints so that new, healthy bone and cartilage tissue can be replenished. When people stop producing these critical proteins, our bodies start to break down, resulting in significant health problems:


Loss of Bone Tissue: Once bone tissue breaks down, calcium and mineral supplements have nothing to bind to, resulting in thinning bones that are weak, fragile, and at risk of fracture.
Thinning of cartilage lining: With thinning comes aches and pains in the joints that limit movement. Glucosamine, chondroitin and MSM can only provide building blocks for cartilage tissue and cannot activate the key cells to produce new cartilage tissue.    
That's why Ostinol™, powered by Cyplexinol bio-active protein, was created. Cyplexinol is an all-natural, unique protein complex that naturally stimulates key stem cells to become osteoblasts (bone-building cells) and chondrocytes (cartilage building cells) for new, healthy bone and cartilage tissue. And, Ostinol provides a powerful immuno-protective effect resulting in rapid clinic benefits in as fast as seven days.*
In a published seven-year long case study, a 59-year-old female, nonsmoker was diagnosed with menopause-associated osteoporosis by a local health center. Prior to using Ostinol™, the woman's bone density DXA (dual energy x-ray absorptiometry) score declined for five years, despite calcium, and got so low that she was osteoporotic. In just three years using Ostinol™, her DXA score increased by 52 percent from her lowest score, indicating normal bone density. **
A published, peer-reviewed clinical trial, a double-blind, placebo controlled study on the efficacy and safety of Cyplexinol in relieving pain and stiffness on 87 participants 55 years and older with moderate to severe osteoarthritis of the hip or knee, found that 90 percent reported reduction in pain and 83 percent reported reduction in stiffness.***
While calcium and other minerals are great for fortifying bone tissue for post-menopausal women, it can also be a health risk. With the lack of bone tissue, calcium can build up in coronary arteries leading to a significant increase incidence in myocardial infarction. In 2010 the British Medical Journal of Science (http://www.bmj.com/content/341/bmj.c3691 ) published these findings from a meta-analysis.
However, when adding Ostinol™, new bone tissue is stimulated to grow – providing the critical bone surface for calcium to bind. This process of producing new bone tissue, fortified by calcium, is the natural way bones grow, which properly utilizes calcium so it does not accumulate in the wrong parts of the body.
Previously available only to healthcare professionals, the bio-active proteins in Ostinol™ are backed by 40 years of scientific and medical research, been used by surgeons for 25 years and orally for eight years by health care professionals with great clinical success.
Ostinol™ is only available at http://www.ostinol.com and comes in three oral strengths from 150mg to 450mg to address a variety of the bone and joint conditions. Pricing begins at $ 45 for 30 tablets of Ostinol™ 150.
"The launch of Ostinol™ is an important milestone for ZyCal Bioceuticals and represents our commitment to developing new, safe and effective supplements that address unmet consumer needs," said Scaffidi. "As we age, pain can disrupt life so much and take us away from the things we love to do. With Ostinol™, consumers can now benefit from our science to take charge of their bodies and enjoy life as it was intended."
———————————————

* These statements have not been evaluated by the Food and Drug Administration. These products are not intended to diagnose, treat, cure or prevent any disease.
** Integrative Medicine – October 2013 (http://www.ostinol.com/wp/wp-content/uploads/2015/05/CYPL-Bone-2.pdf)
*** Integrative Medicine – April 2013 (http://www.ostinol.com/wp/wp-content/uploads/2015/05/zycal-DBPC-Cyplexinol-3-2013-clinical.pdf)
Clinical studies are available for review at http://www.ostinol.com/clinical-studies.
About ZyCal Bioceuticals
Headquartered in Toms River, New Jersey, ZyCal Bioceuticals Healthcare Co., Inc. (http://www.zycalbio.com) is a nutritional supplement company focused on manufacturing and marketing of biologically active proteins that address bone and joint conditions for consumers, healthcare providers and their patients. Since its founding in 2006, ZyCal has developed and launched the first biologically active nutritional supplement leveraging 40 years of research and commitment to helping live better lives.
Our mission is to offer innovative, premium nutritional bone and joint supplements that enrich people's lives. To fulfill its mission, we are committed to providing superior products and service that help change people's lives.

http://www.zycalbio.com
Media Relations Contact

Scott Carpenter / 813-210-0383 / scott(at)nextgreatbrand(dot)com
Find More Food Press Releases
CT Airlink offers Car Service in CT to JFK and CT Car Service to Airports, LaGuardia, Manhattan Cruise Terminal, Newark Liberty (EWR), Boston Logan and Bradley Airport. CT Airlink operates luxury vans for NYC to CT Car Service, Sedans & SUVs for
CT Car Service to NYC
from Greenwich, Danbury, Bethel, Southbury, Brookfield, Milford, New Fairfield, Kent, Roxbury, Litchfield, Southbury, Middlebury, Woodbury, Waterbury, Watertown, Waterford, Torrington, Newtown, Redding, Ridgefield, Weston and Wilton by CT Airlink. NYC Airports Limo (Car Service to JFK from Rockland County NY) serves Blauvelt, Haverstraw, Nanuet, Orangeburg, Piermont, Sparkill, Suffern, Tompkins Cove, West Nyack, Congers, Hillburn, New City, Palisades and Pomona. NYCairportsLimo offers
Car Service Rockland County to JFK
and Rockland County Car Service to JFK Airport and Manhattan by NYCairportsLimo.com from Spring Valley, Tappan, Valley Cottage, Garnerville, Monsey, Nyack, Pearl River, Sloatsburg, Stonypoint, Theills and West Haverstraw towns in Upstate New York.
Boca Raton, FL (PRWEB)
July 08, 2015
South Florida Haiti Project, a nonprofit outreach ministry based in South Florida, will join in the dedication of a newly built Episcopal church in Bondeau, Haiti, on July 12, 2015. Formerly known as St. Marie Madeleine, the new Bon Samaritan Episcopal Church will hold approximately 800 congregants and will be the largest Episcopal Church in Haiti.
The day-long dedication celebration, expected to draw 1,000 people, will include a worship service, music, food and fellowship. Clergy and laypeople from across Haiti will attend, including Rt. Rev. Jean Zache Duracin, bishop of Haiti. Also in attendance will be Linda Turner, widow of Jim Turner, the first American supporter of South Florida Haiti Project's outreach to Bondeau.
"The dedication of the new church is an historic moment for the Bondeau community," said Rev. Andrew Sherman, president of South Florida Haiti Project and rector of St. Gregory's Episcopal Church in Boca Raton, where the nonprofit was founded. "It represents a long-standing partnership between South Florida Haiti Project and Bondeau, a relationship that has helped relieve poverty and lift up a community in the name of God."
In addition to the new church, South Florida Haiti Project's ministries in Bondeau include a pre-school and primary school with more than 300 students, a developing secondary school, 40 housing units, a children's home called Kay Timoun that houses 14 children ages 5 to 15, food assistance, sustainable solar power, clean water, a guest house and medical missions. Together, these ministries meet daily and long-term needs for people of all ages.
The need for a new church, however, became increasingly clear. Services were held in a primary school classroom big enough for about 75 people; however, more than 350 attend each Sunday, meaning congregants would stand or sit outside. "It's easy to see how, along with clean water, the church is their number one priority," said David Gury, treasurer of South Florida Haiti Project. "Having the new building will be like going from a one-bedroom apartment to a 5,000-square-foot house. It will be an amazing transformation and a better home for the congregation."
Building a house of worship was a logical next step that the people of Bondeau deeply desired, Fr. Sherman said. "The congregation provided the first $ 2,300 for the church, a testament to their vision for a church to anchor the thriving community we have created together," Fr. Sherman said. "Many of the congregants live on less than a dollar a day. Their contribution represents a significant sacrifice in relation to their resources, and it is proof of their profound faith."
Leadership in the fundraising for and development of Bon Samaritan church came primarily from Rev. Sam Owen and his wife, Rev. Jenny Owen. Fr. Owen is the priest in charge of New York City's only Haitian Episcopal congregation, the Haitian Congregation of the Good Samaritan. He said the new church represents not only a religious commitment to Bondeau, but also a humanitarian one. "This church will further strengthen the community spiritually and materially," Fr. Owen said. "It will provide tangible help for the poor and spiritual guidance for all."
The children of Bondeau will provide special music for the dedication with instruments gifted by South Florida Haiti Project through a United Thanks Offering Grant from the Domestic and Foreign Missionary Society of the Episcopal Church. The grant, which covered the purchase of 55 refurbished instruments, will launch a new music program at the Bon Samaritan School and provide a salary for a music teacher for one year.
St. Gregory's Episcopal Church began its outreach program to Bondeau in 2003. In 2010, the South Florida Haiti Project was formed to advance St. Gregory's work in Bondeau and today includes the following South Florida partners: St. Paul's Episcopal Church in Delray Beach, The Chapel of St. Andrew in Boca Raton, St. Andrew's Schools in Boca Raton, The Episcopal Church of the Good Shepherd in Tequesta, The Episcopal Church of the Advent in Palm City, St. Andrew's Episcopal Church in Palmetto Bay and many others.
Significant support also comes from private donors in South Florida and other regions of the U.S. "South Florida Haiti Project would like to thanks its partners and donors for helping us complete Bon Samaritan Episcopal Church," Fr. Sherman said. "We hope this church will stand as a symbol of the partnership between us and the people of Bondeau for generations to come."
For more information, contact David Gury, treasurer of South Florida Haiti Project, at 561-212-8104 or dgury(at)att(dot)net or the Rev. Kathleen Gannon, vice president of South Florida Haiti Project, at 561-445-5440 or revkathleen(at)stpaulsdelray(dot)org.
About South Florida Haiti Project

South Florida Haiti Project is an adjunct organization of St. Gregory's Episcopal Church based in Boca Raton, FL. The mission of South Florida Haiti Project is to improve the living conditions of the people of Bondeau, Haiti, by raising funds, providing in-kind gifts, sending volunteers for programs focused on creating a culture of brotherhood and spirituality in the Episcopal tradition, and providing clean water, basic education, health care, nutrition and shelter.
More Food Press Releases
by
Michael Stern
Have you ever had the frustrating feeling of going into your freezer to select a piece of meat that you'd like to cook, only to see all of the nasty and dark colored marks on it? Have you noticed these marks, or have you noticed sheets of ice that have been developed on your meat, or anything else that you would like to cut? This is the result of freezer burn that comes from the poor storage of foods that are stored in the freezer. People find that they end up throwing away more money than what they actually consume when they buy food products that are either too stricken by freezer burn, mold, or any other process of deterioration. When this happens, they'll need an alternative to make sure that their food stays fresh for as long as possible.
This is why it's to their advantage to purchase a product such as a food vacuum sealer for food products. The food vacuum sealer entails a machine that literally sucks the air out of a plastic wrapper. The end result is a piece of food that has the air sucked up out of it. It is encased in thick plastic that can be put in the refrigerator, or in the freezer. Because the air is sucked out of this, people find that their food can last three times as long in the refrigerator or in the freezer. It's also common to use vacuum sealers for dry goods as well. When dry goods are protected with vacuum sealers, the seal is tight enough to keep out the air, as well as any bugs that might find their way into these items, such as with sugar, rice, or grains.  Food vacuum sealers are very easy to find, and they aren't very expensive.
They come in models that are small and that fit on one's small countertop, or they come in utility sizes. Again, the main component of these devices is vacuum sealers. These machines will usually come with sheets of plastic that open up in the middle. The sheets of plastic can be small to large, depending on what size food you would like to store.
Many people have realized the benefits of keeping their food fresh this way and as such, they are able to buy their food in bulk. When a consumer buys their food in bulk using a food vacuum sealer, they have the confidence of knowing that they won't have to consume the food in an unreasonable amount of time, or that their investment will go bad. A vacuum sealer will protect their food investment, and it will be able to save money to create a lot more healthy meal ideas.
VacuumSealerPro.com offers high quality, affordable Food vacuum sealers that are perfect for you.
More Food Articles

Torrance, CA (PRWEB)
July 08, 2015
Whether you're a professional chef or someone who simply wants to prepare tastier and more succulent meals at home, the sous vide cooking technique can be an important tool in your culinary repertoire. There's now no more complete reference for helping you learn and develop sous vide cooking skills than Immersed – The Definitive Guide to Sous Vide Cooking ($ 39.99; available at PolyScienceCulinary.com).
Written by PolyScience President Philip Preston (the inventor of the Sous Vide Professional®) — with contributions by Grant Achatz, Dave Arnold, Wylie Dufresne, Bruno Goussault, Johnny Iuzzini, Thomas Keller, Nick Kokonas, Matthias Merges, Nathan Myhrvold, Dr. O. Peter Snyder, and Chris Young — Immersed features more than 40 sous vide recipes; these recipes demonstrate how to prepare tasty and innovative meat, seafood, fruit, vegetable, egg-based dishes, and beverages, with almost no chance of failure.
The comprehensive guide also includes detailed information on sous vide packaging as well as cooking times for various shapes and sizes of meats and seafood. (As an accompaniment to the book, cooks can also download the PolyScience Sous Vide Toolbox™ App for iOS devices from the iTunes store. ($ 4.99))
In addition to step-by-step instructions, Immersed delves into the science, safety and history of sous vide cooking. Notes Preston, "When I first met chef Matthias Merges at Charlie Trotter's restaurant in Chicago to talk about temperature control, little did I know that our exchange would spark a new culinary arena for us both. As word of what Trotter's was doing with my equipment spread, I was soon meeting with Thomas Keller, Grant Achatz, Wylie Dufresne, Dave Arnold, and other renowned chefs." 
About the author: Philip Preston is an accomplished amateur chef and inventor of culinary products such as the Sous Vide Professional®, Anti-Griddle®, The Smoking Gun®.  He has appeared as a judge on Iron Chef America, served as a presenter for Next Iron Chef and been profiled in Food & Wine and Time. He is a winner of the Star Chefs Award for Technology (three times), the Food Network's Tasty Technology Award, and the Madrid Fusion Technology Award.
For review copies and media opportunities please contact:

David Pietranczyk, PolyScience Culinary

david.pietranczyk(at)polyscienceculinary(dot)com

773-876-2929
Find More Food Press Releases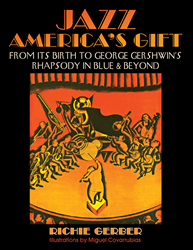 Fort Lauderdale, FL (PRWEB)
July 08, 2015
Richie Gerber, former owner of Bread of Life Natural Foods Markets (which merged with Whole Foods Markets in 1997), experiences the culmination of his second lifelong passion—Jazz—in his new book Jazz America's Gift, published this month by Gerber's Miracle Publishers.
The health of an individual lays the foundation for the health of a nation on every level. The U.S.—and the world at large—is experiencing a dire state of dis-ease and disordered living, resulting in a discordant clash between religions and races. With these turbulent issues at the forefront of today's news, Gerber's book is an important reminder of the harmony that emerges from the synergetic expression of a passion that transcends our differences.
"In Jazz, like in America, the group works together toward a common cause with lots of room left for each individual to shine," writes Gerber. This nostalgic view of the values upon which America was established is a fitting backdrop for the birth and rise of Jazz in our nation. The "gift" comes wrapped in a package of mutual respect and admiration for individual talents and the part they play in creating a melodious whole.
Gerber's wit personalizes the narrative as he bridges the rich and varied historical beginnings of jazz with the colorful, but short, life of virtuoso composer and musician, George Gershwin. Gerber draws from his unique perspective as an accomplished musician, performer, comedian, impresario, and admirer of Gershwin's work, as well as "all things Jazz," to breathe new life into the reader's appreciation of the Age of Jazz.
Complementing the narrative is the signature artwork of the storied celebrity artist Miguel Covarrubias, who can arguably be called the chronicler of the Jazz Age. With the cooperation of the Covarrubias Estate, Gerber enlivened the personal reflections and historical perspective in Jazz America's Gift with Covarrubias's creative representation of this defining era in history. The interplay of Gerber's words and Covarrubias's artwork makes for a visually appealing literary experience.
Gerber has produced hundreds of jazz concerts that featured his band The Free Radicals, playing straight-ahead jazz, bebop, and swing with jazz greats like Eddie Higgins, former Count Basie alumnus Pete Minger, and five-time Grammy nominee Ira Sullivan. His passion for jazz, his varied experience, and his first-hand knowledge shine through the 300-plus, large-format paperback book, giving each page a rhythm all its own.
Gerber, whose mediagenic personality is legendary in some circles, is available for interviews and media appearances. Maine humorist and author Tim Sample says of Gerber, "[He's] funny, smart, talented and charismatic . . . the 'real deal.' He ha[s] stellar musical chops, tons of experience, plus he['s] from freakin' New York City, man!"
Visit http://www.jazzamericasgift.com for contact details, review copies, photos, and an author bio.

Los Angeles, CA (PRWEB)
July 08, 2015
GBK (gbkproductions.com), the luxury lifestyle gift lounge and special events company, will honor the 2015 ESPY Awards' Nominees and Presenters with their annual GBK Pre-Awards Lounge. GBK's exclusive list of invited celebrities, VIPs, and Media will have an opportunity to enjoy gifts from participating sponsors, music by GoodBoy, Party DJ, and an exclusive celebrity poker tournament that night – aiming to raise funds for the event's participating charities.
GBK's blend of entertainment, celebrity marketing and charity fundraising consistently sets new standards for the industry and this event is no different. With the help of participating sponsors and generous celebrity guests, 100% of the poker tournament proceeds will be a charitable donation. Both celebrities and professional poker players will partake in the poker tournament.
This year's lounge will feature a variety of luxury and lifestyle brands. Presenting Sponsor, ZIRH Men's Skincare, will be a highlight of the lounge, providing premium skincare and shaving essentials. ZIRH is a go-to for celebrities, professional athletes and musicians who turn to the collection for its no-nonsense approach towards grooming.
Also on the health and wellness front, gifts will include: a $ 2,500 gift certificate towards a Health Mate Infrared Sauna, bring ultimate comfort and style to your sauna experience and enjoy the benefits of both nature and technology in our Health Mate Classic For Two; anti-aging facial serum from DERMAFFECT; dental hygiene gifts from PlaqueHD, the first professional plaque-identifying toothpaste loved by dentists, patients and parents nationwide; 3 personal training sessions with celebrity trainer Lalo Fuentes with LaloFitness; Ferocious Nutrition, gifting Natural Testosterone and HGH Booster for men looking to boost performance and gain muscle mass; and Cheribundi, a fresh pressed tart cherry juice made from a proprietary juicing process to yield peak antioxidant levels.
Fashion and accessories are always a highlight of any GBK Lounge. Guests will enjoy products from Vessel, a leading custom bag company gifting one lifestyle bag; custom official team jackets from MLB, NBA, NHL, and NASCAR from JH Design Group; wooden sunglasses that are ethically and environmentally correct from Woodzee; 100% soft cotton blend jersey, classic "M Face Tee", with a gold foil hit from M the Movement; and gifts from Copper Tough Compression Sleeves.
Other great gifts include: Gifts certificate for resorts throughout Mexico and Jamaica, compliments of Caribbean Living Magazine; $ 400 gift certificate towards a custom scrapbook from BESTofLEGACY; and a free "Ike's for a Year" card and "Skip the Line" pass from Ike's Place – award-winning sandwiches for meat eaters, vegetarians, vegans and gluten-free diets.
As always, GBK will feature an array of charitable organizations:
The Model Citizen Fund – Model Citizen Fund distributes life-sustaining backpacks filled with 150 items that include food, health, and survival essentials to the homeless and disaster victims, giving them the tools and confidence to build/rebuild their lives. For more information, please visit: http://www.ModelCitizenFund.org
Muscular Dystrophy Association – MDA is the world's leading nonprofit health agency dedicated to saving and improving the lives of people with muscle disease, including muscular dystrophy, amyotrophic lateral sclerosis (ALS) and other neuromuscular diseases. For more information, please visit: http://www.mda.org
KIDS in the GAME – KIDS in the GAME provides grants and passes to kids, youth sports organizations, and schools to support kids' physical activity across the country. For more information, please visit: http://www.kidsinthegame.org
ABOUT GBK:

GBK, formerly GBK Productions, is a luxury lifestyle gifting and special events company, specializing in entertainment marketing integration. Formed in 2000 by Gavin Keilly, the company's Founder and CEO, GBK consists of five divisions: GBK Celebrity Gifting, GBK Special Events, GBK Weddings, GBK Charitable Consulting and GBK Marketing/Public Relations. Widely known in the entertainment industry for bringing that little extra something into the Gifting Lounge environment, GBK offers its clients a full range of marketing services. For more information on Gavin B. Keilly (CEO), Carla Domen (VP) or GBK, please go to gbkproductions.com.
GBK is not affiliated with, endorsed, or sponsored by ESPN; the ESPY Awards; ABC, Inc.; The Walt Disney Company; or The Hearst Corporation.

Riverside, MO (PRWEB)
July 07, 2015
Velociti Inc., a global provider of technology deployment services headquartered in Riverside, Mo., has renewed its Service Provider Annual Certification ("SPAC") for status as an approved technology services provider for E-rate. This allows Velociti to provide its WLAN installation Services at discounted rates to schools and libraries.
E-rate is a federal program that provides eligible schools and libraries discounts of 20 – 90% on eligible telecommunications services. The E-rate program is administered by the Schools and Libraries Division (SLD) of the Universal Service Administrative Company (USAC). The program was created as part of the Federal Telecommunication Act of 1996 to ensure that all eligible schools and libraries have affordable access to modern telecommunications and information services.
"In today's BYOD environment, where schools and libraries at every level are providing tablets and other devices to connect students to a whole new world of learning, proper WLAN infrastructures are critical to support these endeavors," said Jim West, Vice President of Velociti's Facilities Division. "We take pride in our ability to help these institutions achieve the results they need and appreciate being a part of a program that does so much for education."
Velociti provides a host of WLAN services, including site surveys, structured cabling, design and installation services, project management, inventory management, health checks, hardware staging and configuration and managed services.
About Velociti Inc.

Velociti is a global provider of technology deployment services, specializing in the installation & service of a broad range of transportation and networking technology products. Velociti's experience allows enterprise level technology consumers to maximize ROI as a result of leveraging expert, rapid deployment. Velociti clients include many Fortune 500 companies from a wide variety of market segments including transportation, retail, distribution, manufacturing, healthcare, government, education, food service and public venues. For more information visit http://www.velociti.com or call toll free (855)-233-7210.
Find More Food Press Releases

Calgary, AB (PRWEB)
July 07, 2015
Representatives of Maxxam and their guests attended the Canada Oil & Gas Awards Gala in Calgary last night and received the Award for Excellence in Corporate Social Responsibility. At the event, hundreds of oil and gas executives gathered to celebrate Health and Safety, Operational Excellence, Innovation, Corporate Social Responsibility and Environmental Stewardship.
The Award for Excellence in Corporate Social Responsibility goes to the company, operating in, or working directly with the oil and gas sector, which can demonstrate the best active CSR program showing direct benefit to the community or deserving individuals, the organizations employees outside of work, and how the impact of the initiative was measured. Maxxam scored highest in the category with such remarks from the judges as:


"Maxxam has an impressive number of programs to promote social responsibility including a substantial financial commitment and a range of fund raising events. They have environmental and Aboriginal programs and actively encourage employee involvement in the efforts. Maxxam issues a detailed report annually on their efforts to promote social responsibility."
"Good focus, strong involvement and good commitment to the "social responsibility" fabric of where they work and the people they employ. "
Fred Hutchings, Maxxam's Senior Vice President Petroleum, said: "Being recognized by our peers in the industry with this award is a great honour. Creating socially responsible programs that directly benefit the communities in which we live and work is deeply rooted in the Maxxam culture, and what makes our company unique."
About Maxxam Analytics

Maxxam is the Canadian market leader in analytical services and solutions to the energy, environmental, food and DNA industries and a member of the Bureau Veritas Group of companies – a world leader in testing, inspection and certification services. We support critical decisions made by our customers through the application of rigorous science and the knowledge and expertise of our employees.
About the Oil & Gas Awards

The Oil & Gas Awards recognize the outstanding achievements made within the upstream and midstream sectors of the North American oil and gas industry. The Awards are a platform for the industry to demonstrate and celebrate the advances made in the key areas of environment, efficiency, innovation, corporate social responsibility and health and safety.
Media Inquiries:

Corinna Bjornson (cbjornson(at)maxxam(dot)ca)

Director, Communications
More Food Press Releases
by
Michael Stern
There are certain people who get unfavorable response to some food, thus, considering it a food allergy. It is said to be an adverse immune response to a certain food protein. We often see friends and family who experience asthma or allergic rhinitis from eating an allergen.
Most common symptoms of food allergy are vomiting, nausea, rashes and diarrhea. This is how the body is reacting to something you have eaten or drank. This is also sometimes called as food intolerance, but these are two different things, which always confuse a lot of people. Both can have the same symptoms but food intolerance only gives milder reaction, as compared to food allergy. Just like lactose intolerance which only gives you an upset stomach.
Food allergy symptoms often show up about an hour after you have taken something. Detecting signs of allergy is your first step to identify the adverse effect of eating something. Swelling on the face, lips and tongue is a common sight, as well as wheezing and trouble breathing. Sulfite allergy is an example. It is the reaction you get when drinking wine, more particularly the red. Though it is has not been scientifically proven, accounts from people who suffer dizziness after drinking red wine were noted. Food allergy can also lead to a more severe reaction, which could sometimes be fatal. So it is important for someone to identify the food they are allergic to, in order to prevent hazard to one's life. A lot of people tend to outgrow their food allergies, though seafood like shellfish and fish, and nuts such as peanuts and almonds, and milk and eggs are somehow considered a lifelong allergy.
If you are suffering from food allergy, it would be wise to read the labels on the food that you are going to take in. If you are not sure on certain ingredients of a particular dish, then do not eat it. It would be more beneficial to stay away from it than having to suffer the effects right after. You can also read and research information all about it. You can keep a list of certain food that you should be avoiding as the ingredients can be an allergen. Asking your doctor can also be beneficial. Some medications can be recommended by your doctor in order to control the allergic symptoms, in case you have unwillingly eaten something you are allergic to.
Thank you for taking the time to read this article. You can read more about Trent's sulfite allergy information by visiting the website www.sulfiteallergy.org.
Related Food Articles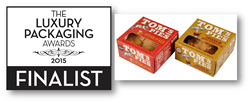 (PRWEB UK)
7 July 2015
The Alexir Partnership is delighted to announce that Tom's Pies has been shortlisted in the Food category for the 2015 Luxury Packaging Awards. The volume and quality of the entries received this year exceeded expectations, so many congratulations to all on being shortlisted! The full shortlist will be available to view online from Monday 6th July on the official website http://www.luxurypackagingawards.com. The winners will be announced at an awards ceremony at The Ballroom, Grosvenor House Hotel, Park Lane on Wednesday 16th September 2015.
The Alexir Partnership was delighted to be approached by top packaging designers Ziggurat Brands to join them in the development of eye-catching, premium packaging for the well-known brand 'Tom's Pies'. This famous pie brand was founded in 2006 by chef Tom Cull, later joined by Tom Little, and started by supplying local delicatessens and foodservice. Tom's Pies are created from only the best and freshest ingredients, sourced locally wherever possible. These multi-award winning pies, lovingly handmade in Devon, quite clearly needed the best packaging for their next steps into the retail market and Ziggurat Brands cherry-picked Alexir for their expertise in the food packaging market.
The design and print of the new packaging were inspired by a Victorian Circus. As Alison Taylor, Director at Ziggurat Brands explains, "There is theatre through this design. The on-pack illustrations were inspired by an 18th century French book and convey the premium contemporary take on the vintage essence of the brand".
Evidently such an exquisite brand design from Ziggurat demanded a top quality constructional design and sophisticated finish to convey this premium theme. Great preparation was required by the print team at Alexir to achieve the exact colour matches and led to six colours plus varnish with foil blocking to shadow the brand name. There was also embossing on the 'rolling pin' to further enhance its tactile appeal.
As well as the premium finishing, the brand owners were looking for an 'opening experience' like no other pie brand in the market place. Ziggurat were keen to explore an idea they had which revolved around a perforated opening. This was realised by working closely with the team at Alexir, whose expertise in cardboard engineering and understanding of packaging line capabilities proved invaluable. Labelled 'The Grand Opening', perforations were integrated into the design from the top flap through to the bottom of the front face of the pack, allowing the consumer to open the whole pack to reveal the pie nestled on a background of the story of Tom's Pies printed on the reverse of the board.
Chris Fuller, Alexir's Senior Sales Manager responsible for the pack, explains "The perforation technique allows for easy tear and further enhances the theatre of opening the packaging to reveal the pie".
About The Alexir Partnership

With proven reliability, excellent quality and innovative packaging solutions, The Alexir Partnership is the only UK owned company that offers a complete design to delivery service in the specialist food packaging and co-manufacturing industry.

http://www.alexir.co.uk
Contact details

Claire Summersby, Marketing Manager and Head of Innovation,

+44 (0)1732 866681

csummersby(at)alexir(dot)co.uk
Related Food Press Releases